This article applies to the following role permissions: ConexED Administrator
Reason Codes
Students are prompted to identify the reason for their visit when scheduling an appointment, entering a virtual lobby, or checking into an on-campus meeting queue using the Kiosk. They choose from a list of Reason Codes in the ConexED system. The master reason codes are created by ConexED Administrators and Department Directors and can be added and customized to a group by group administrators.
There are three main steps to adding a Reason Code to a group so that it appears as an option to select where students connect with users:
1) Create Reason Code Categories (ConexED Admin)
2) Create Master Reason Codes (ConexED Admin or Department Director Role)
3) Add Reason Codes to Groups and Modify as needed (ConexED Admin, Department Director Role, or Group Manager Role)
This article will describe how ConexED Admins can create reason code categories in the ConexED Admin Control Panel.
ConexED Admin Panel: Reason Codes
First, the ConexED Admin creates Reason Code Categories on the Reason Code page of the Admin User Panel accessible only to ConexED Admins as shown in Figure 1.
Figure 1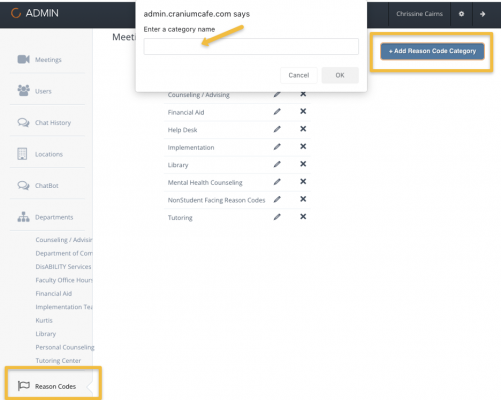 ConexED Admin Creates Reason Code Categories on Admin User Panel
The ConexED Admin can also create all of the Reason Codes within each category if desired; however, as group admins have the ability to add once the categories are created, it is not necessary. To do so from the ConexED Admin panel, click the pencil icon to edit for each category. This tool opens a page for adding specific Reason Codes, each of which will have an individual pencil icon to edit, and clicking on such will open the customization form to complete.