This article applies to the following role permissions: Administrator - Director - Group Manager - Faculty/Staff
The Persistent Presence feature is available in the ConexED Classrooms (Virtual Event Space) when Breakout Rooms are active. The moderator video feed is continually displayed in all Breakout Rooms for increased accountability and engagement, as shown in Figure 1.
When the moderator is active in a Breakout Room, their picture or video will appear in the center of the room without an open whiteboard or above the attendees' video streams or pictures if the whiteboard is open.
Figure 1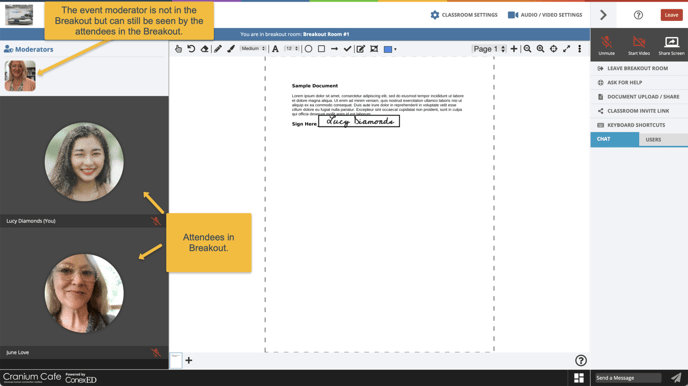 The Manage Breakout Rooms feature shown in Figure 2 provides the moderator's tools for seeing what is on the whiteboard in each Breakout Room and sending a message to a Breakout Room or all Breakout Rooms.
Figure 2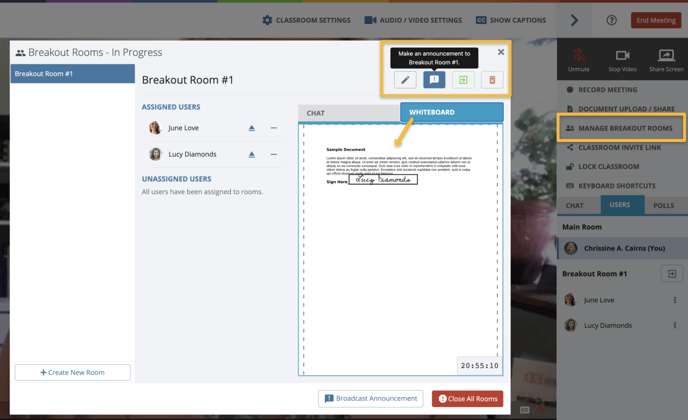 Moderators will always be visible in all Breakout Rooms unless their camera is off. The moderator can turn off video and turn it back on.
Breakout Room participants will only be visible within their assigned breakout room. The moderator can only hear, see, and interact with participants when the moderator is active in that particular Breakout Room.